WeSustain publishes whitepaper "Impact Management"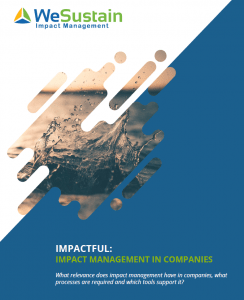 The whitepaper "Impact Management" by WeSustain provides an insight into the cross-company issue that is becoming increasingly important as CSR management becomes more professional. What role tools and software solutions play in this.

More and more companies are taking up the challenge of "sustainability". They address social and environmental problems for which they seek and offer entrepreneurial solutions. One thing is certain: companies that do not contribute to the common good will have a hard time in the future. This makes it all the more important that they make the impact of their business model and their individual sustainability projects comprehensible, transparent and, above all, measurable.
WeSustain's whitepaper "Impact management in companies" deals with a new dimension of the cross-company issue, which is structurally not new, but in its entirety represents a new challenge for business practice: impact measurement and management. Software solutions – such as WeSustain's "Impact Management Software" – can thus contribute significantly to the professionalization of impact management and CSR management.
Please send me my personal download link:
* Your data will not be used for advertising purposes. The survey is only for the evaluation and dispatch of the download links.