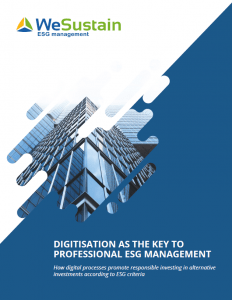 WeSustain publishes new whitepaper:
"Digitisation as the key to professional ESG management"
The whitepaper "Digitisation as key to professional ESG management" gives an insight into the broad sustainability approach for responsible investing in alternative investments. How digital processes promote responsible investment according to ESG criteria.
An English acronym composed of three little letters that summarises a broad sustainability concept for responsible investing: ESG. The so-called ESG criteria are increasingly used by a wide variety of players in the financial market, whether investors or asset managers. At the same time, the approaches for ESG management vary according to each asset class (liquid or illiquid assets). The ethical, social and ecological criteria are intended to ensure that a sustainable financial system is promoted that steers capital into a sustainable real economy. Due to increasing regulations and stakeholder requirements, "sustainable finance" is becoming a new imperative for the financial sector and is presenting financial players with new challenges.
In WeSustain's whitepaper "Digitisation as key to professional ESG management", you will learn what exactly is hidden behind the acronym "ESG", which trends and developments can be observed on the financial market and how investors and asset managers can implement their ESG strategies efficiently with a professional and above all digitally supported ESG management.

For more information on WeSustain's ESG Management solution, please visit our website:
Please send me my personal download link:
* Your data will not be used for advertising purposes. The survey is only for the evaluation and dispatch of the download links.