WeSustain - Trust and Responsibility
At WeSustain, we specialise in developing innovative software solutions for responsible business management and see ourselves as thought leaders  at the intersection of sustainability and digitisation.
With our finger on the pulse of digital technology, we develop powerful, pioneering solutions for businesses and other organisations to enable successful and efficient sustainability, impact, ESG and compliance management.
Our aim is to work with customers to make businesses more sustainable and more future-proof. We're convinced that smart digital solutions have an essential role to play by enabling our users to fulfill their potential for greater efficiency, innovation and positive impact and to build trust through greater transparency surrounding what they do.
Today, we're one of the world's leading providers of software for responsible business management. More than 600 companies and other organisations have put their trust in us by choosing path-breaking WeSustain solutions.
At WeSustain, we believe in leading by example. This is why we as a company embrace the principles of sustainability and report regularly on our progress as well as our participation in, and membership of, various initiatives and organisations.
GRI certification of our Enterprise Sustainability Management (ESM) solution ensures that the GRI standards as implemented in our software are complete and correct, and that sustainability reports created using it are transparent and reliable.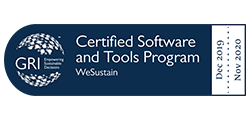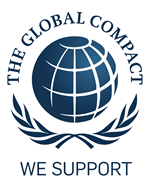 Many organisations use our ESM solution as a simple and efficient tool for preparing reports that conform to standards like GRI G4, ISO 26000 or the UN's Global Compact criteria. We, too, wanted to meet our responsibilities and have published our own declaration of conformity and commitment to uphold the Global Compact's Ten Principles. We report regularly in Communications on Progress (COPs) on our actions and advancements in the areas of human rights, labor, the environment and anti-corruption. With more than 7,000 member organisations currently, the UNGC is the world's largest network for corporate social responsibility (CSR). It provides platforms through which organisations can engage with and learn about implementing CSR from one another, while promoting efforts toward achieving the UN's Sustainable Development Goals (SGDs).
Germany's Sustainability Code, with its 20 criteria, is a pragmatic starting point when it comes to sustainability reporting. Created by the German Council for Sustainable Development (RNE), the Code offers guidance for small and mid-sized companies in particular, and enables CSR-RUG-compliant reporting for organisations obligated to file sustainability reports. WeSustain has been an official DNK training partner since 2015 and regularly publishes its own DNK declaration. You can read our most recent declaration here.