These are the faces behind WeSustain
| | |
| --- | --- |
| Name: | Dhanyatha Rai |
| Hometown: | Mangalore, India |
| Position: | Software Developer |
| Member since: | May 2015 |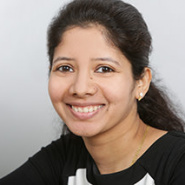 My Tasks:
I develop features for client specific business requirements. At present I am working on modularizing our software to have Audit Management as a separate product.

Why Sustainability:
Sustainability encourages constant improvement, it's one such thing that could make the world a nicer place not just for today but also for the days to come.

Why WeSustain:
WeSustain gives me an opportunity to learn new things and convert my ideas into reality. WeSustain as a team has encouraged me to believe in myself and look forward for brighter days ahead. Creating awareness amongst people about sustainability, providing technology to achieve sustainability goals is what WeSustain does.

Three goals from my bucket list:
Without these websites / apps I would be stranded:
Netflix
gaana.com
viki.com