These are the faces behind WeSustain
| | |
| --- | --- |
| Name: | Jessica Warrings |
| Hometown: | Jever |
| Position: | Product Manager |
| Member since: | January 2018 |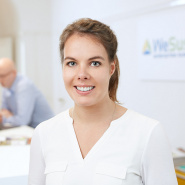 My Tasks:
I am working at WeSustain as a Product Manager and I am responsible for our ESG & Impact Management solution. My area of responsibility is very diverse. From strategic planning to product development and marketing, I am implementing ideas and concepts.

Why Sustainability:
At present, we need approx. 1.75 earths and therefore more resources than can be regenerated by ecosystems each year. This is not sustainable in the long term. To make our planet habitable for the future, I see sustainability as necessary. It is our responsibility to leave an intact environment for future generations – ecologically, socially and economically.

Why WeSustain:
Sustainable oriented company
Versatile tasks
A great team

Three goals from my bucket list:
To push forward the development of the ESG & Impact Management solution
Reduce my plastic consumption
Taking a salsa class with my husband

Without these websites / apps I would be stranded:
If I could not read my e-papers – I wouldn't be stranded, but I would miss something.