These are the faces behind WeSustain
| | |
| --- | --- |
| Name: | Leon Brombeer |
| Hometown: | Hemmingen |
| Position: | Trainee as IT specialist for application development |
| Member since: | August 2017 |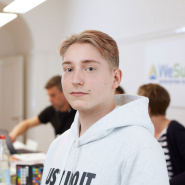 My Tasks:
Currently, I am responsible for our internal administration program, which was started in 2017 as an apprentice project. Since the beginning of the project, more and more of the overall responsibility for the project has been transferred to me, and by now I would almost call it "my precious".

Why Sustainability:
The future of our planet and the destruction of nature has kept me interested since my childhood. At that time, just as an abstract thought in my mind, I have given little thought to what I can do to stop the entropic behavior of humanity and its parasitic impact on our Earth. After completing high school, I wanted to give something back to the planet and started looking for a career that combines this desire for a healthy planet with my passion for programming; and so I came across the sustainability industry.

Why WeSustain:
When I was looking for an apprenticeship, I directly noticed some things in WeSustain's job posting: apart from the fact that WeSustain already had sustainability in its name, the vacancy almost seemed like an invitation; it seemed relaxed and some places taken almost with a little humor. I took a look at the website and quickly made friends with the concept of the company: a small company that agrees with my goal of contributing to the preservation of the earth – sounds good! So I applied, had my job interview, was accepted and have not looked back once to this day!

Three goals from my bucket list:
Travel to Micronesia
drive a Tesla
build a log cabin in the Canadian forest on Woody Lake in Ontario

Without these websites / apps I would be stranded:
Google – obviously
Stackoverflow
Youtube
Spotify
Twitter