These are the faces behind WeSustain
| | |
| --- | --- |
| Name: | Dr. Manfred Heil |
| Hometown: | Hannover |
| Position: | CEO |
| Member since: | 2009 |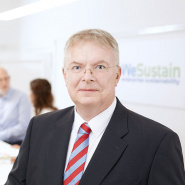 My Tasks:
I am coaching the WeSustain-team in order to create and deliver the best sustainability and compliance software in the world.

Why Sustainability:
I've never been able to separate work from private life. Work and career go together have to "make sense". Therefore, it's not only about commercial success but also about achieving a positive impact on society and stakeholders. Combining both dimensions makes the perfect job. At WeSustain I have the opportunity to work "purpose-driven", yet we forster a professional environment.
Three goals from my bucket list:
Summer canoe-trip with my son in Finland
Descending from a farmer's family I like t get into bio-agriculture one day
Travers the alps hiking

Without these websites / apps I would be stranded:
It's amazing how much knowledge and experience is shared over platforms like youtube. From basic house improvement to astrophysics you find so much useful advice in video tutorials.