Software for professional and reliable ESG management spanning the investment life cycle in private markets
Are you an investor who needs to make decisions and manage impact investment programs based on environmental, social and governance (ESG) criteria?
Or are you a general partner or a portfolio, asset or risk manager who needs to report on ESG-relevant data or actively manage ESG risks?
If so, WeSustain's ESG Management solution offers you a versatile, powerful and efficient IT infrastructure designed to meet these needs.
It's never been easier to manage workflows centrally, to collect ESG data reliably and efficiently, and to automatically generate evaluations and reports.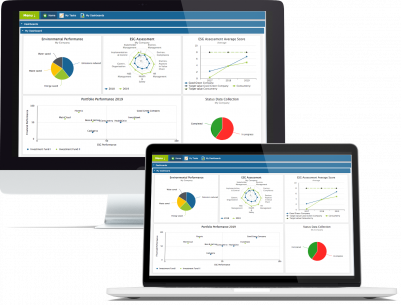 CORE FUNCTIONS AT A GLANCE
Planning and management
A rich feature set,  including stakeholder management, materiality assessments, automated evaluation and approval functions, lets you flexibly plan, manage and track ESG policies, workflows or goals. You can also structure your performance indicators using the built-in ESG frameworks (including the SDGs, PRI and TCFD) or define proprietary schema.
Data management
Document, manage and track ESG data on private markets, including funds, portfolios and individual assets, in a single platform. Automated data flows of all parties involved along the value chain helps to collect the raw data at source for KPI-calculation aligned with accepted and certified methods like carbon footprints or SDG-impacts. It also automatically validates and checks ESG-relevant data for plausibility when you record it.
Evaluations & reporting
Analyse and evaluate your ESG-relevant data at corporate, product, portfolio and/or project level in real time. Automatically generate internal and external reports, and even use remote access features to have your ESG data audited externally.
With WeSustain's ESG Management solution, you can build on advanced data management that will add a whole new level of visibility to your ESG performance going forward, particularly when augmented with artificial intelligence capabilities in the future.
Our IT infrastructure also supports standard interfaces that let you integrate existing ESG tools easily to create a powerful and comprehensive overall software system.
Time- and cost-efficient management of ESG processes and data
Secure, centralised data collection on a single system
Collaborative working and efficient data sharing
Reliable ESG compliance, thanks to integrated standards and guidelines
Better data quality, thanks to plausibility checks
ESG portfolio evaluation and course-of-action decision support
Easy integration of existing ESG tools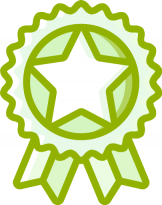 WHY DEPLOY AN ESG SOLUTION?
The Paris Climate Agreement, the United Nations' Sustainable Development Goals (SDGs), the Sustainability Agenda 2030, a European Union action plan, and recommendations on ESG criteria issued by the Taskforce for Climate-related Financial Disclosure (TCFD) in 2018 have all helped promote sustainable finance and responsible investing.
The EU's Sustainable Finance action plan aims to use financial approaches and instruments to foster and strengthen sustainability and resource efficiency based on sustainable growth throughout the economy.
In the light of increasing regulation and stakeholder expectations, sustainable finance is now becoming an imperative within the finance industry. This poses new challenges for finance managers, because professional, rigorous ESG management and the preparation of internal and external reports can be both time-consuming and expensive.
It's here that WeSustain's ESG Management solution delivers. With our software, you can build out a professional and efficient ESG management system to help you ensure ESG compliance.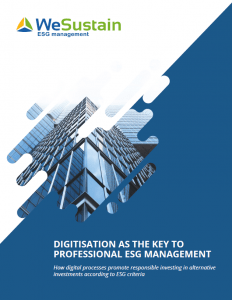 The whitepaper "Digitisation as key to professional ESG management" gives an insight into the broad sustainability approach for responsible investing in alternative investments. How digital processes promote responsible investment according to ESG criteria.

Experience Wesustains solution for ESG-Management in an online demo!