SUSTAINABILITY IN PRACTICE
INTERVIEW WITH DR. KRISTIN VORBOHLE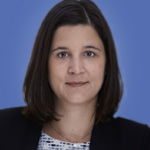 Dr. Kristin Vorbohle is Head of Group Corporate Responsibility at CELESIO since 2015. She talks with us about the diversity of sustainability and professionalizing her work by the ESM software.
Dr. Kristin Vorbohle, how did you become involved in sustainability?
I couldn't decide between studying social sciences and economics so I studied both. The university then offered business and corporate ethics classes. The topic sustainability then seemed to suggest itself.
What are your core tasks as the Head of Group Corporate Responsibility at the Celesio AG?
My core tasks include the elaboration of a CR strategy and the creation of a group-wide sustainability reporting. Our core sustainability topics are energy efficiency, saving material and the promotion of health.
What do you find particularly interesting about your role and what drives you?
The topic sustainability is so interesting for me because it is multi-faceted: Today I am occupied with energy-saving measures for our depots and tomorrow I am occupied with the promotion of health for disadvantaged people.
Why do you think is the work of CSR and sustainability managers so important?
The actual task of sustainability managers is to promote change in companies and again and again ask the question "what added social value offer our products and services? How does society see our company in 10 years? The daily task of sustainability managers is to bundle information in companies and process them for example in form of a sustainability report and to make them available to stakeholders.
What hurdles and challenges do you face in your day-to-day work?
To my mind, for the future it is indispensable to make sustainability a decision factor in companies. The question of the resource consumption should be linked more closely to that one of the rentability.
How does Enterprise Sustainability Management (ESM) software support your work specifically?
An ESM means to me professionalizing my work. Environmental data will be collected just as professionally and reliably as financial ratios. Furthermore, a quantification often helps when it comes to the argumentation.
What benefits do you see in the context of working in a team?
We use WeSustain Europe-wide and this way we have a common platform where we can exchange sustainability information within our enterprise.
Thank you very much for the nice conversation from the whole WeTeam!