SUSTAINABILITY IN PRACTICE
INTERVIEW WITH JASMIN GIANFERRARI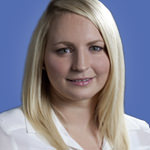 Jasmin Gianferrari is project assistant for communication and marketing since 2014. She tells us about her work, the challenges and the objectives and how the ESM supports the work process.
Jasmin Gianferrari, how did you become involved in sustainability?
I work at IWB in the communication and marketing department. We are the Basler company for energy, drinking-water and telecommunications. The topic sustainability is coordinated and managed centrally by the communication and marketing department.
What are your core tasks as an IWB's Communications Manager?
Since we are a medium-sized company with approximately 820 employees, there are two people in charge of the topic sustainability. We each invest approximately 50 percent of our working hours in the sustainability management. Consequently, I occupy myself with many different sustainability fields which IWB has prioritized in cooperation with its stakeholders in a relevance analysis. Our prioritized fields of action are the reduction of CO2-emissions, IWB as an employer, 100% renewable power from our own production, innovation and product development, energy efficiency, nature conservation and species protection, and a certification of our systems.
What do you find particularly interesting about your role and what drives you?
IWB is a multipurpose utility company, which means that we as a municipal utility cover different fields such as power, district heat, bio and natural gas, drinking water, Telekom and services. In many fields we are in charge of the whole supply chain – from the production via distribution (the nets) to the calculations. This diversity makes the topic sustainability in the company IWB so interesting. We as an energy supplying company can make a great contribution to sustainable development. Sustainability for me means looking ahead. Making small contributions with my work for future generations motivates me.
Why do you think is the work of CSR and sustainability managers so important?
This is very well demonstrated by the example of IWB. For many years this company operates sustainably but single engagements were not coordinated and binding sustainability aims were lacking. With the development of a central sustainability management, which we started approximately 1.5 years ago, we were able to coordinate engagements, formulate objectives and take up new topics.
What hurdles and challenges do you face in your day-to-day work?
First I'd like to anticipate the positive: We have encountered open ears for our concerns by our management and the employees. The challenge is about pushing different topics at the same time, maintaining an overview and above all collecting and reporting data and developments.
What changes would you like to see happen in the future?
Since the sustainability management is a relatively new task for us, it is in our hands to improve our processes and the data collection. With WeSustain we have a partner who supports us doing this.
How does Enterprise Sustainability Management (ESM) software support your work specifically?
Before the implementation we were collecting data with excel. We had to send these as single table sheets to the responsible departments and reclaim them. With the ESM we have a clear overview and better control options because data is verified by at least two people and we can see who is at which release step concerning the data collection. In addition, the ESM enables us to create different reports and to monitor the state of our goal attainment.
What benefits do you see in the context of working in a team?
Several people can have access to the platform at the same time and data is stored centrally at one place. Due to the chat function questions can be directly answered and seen by all team members. This facilitates the communication tremendously.
To what extent can sustainability software help to build greater acceptance for your field of work and how has it helped your organization?
The implementation of the platform signaled our commitment to a professional sustainability management and improving our processes to our employees. The reporting of data is done centrally in order to be able to track our goal attainment more easily.
Thank you very much for the nice conversation from the whole WeTeam!