PROFESSIONAL CO₂ MANAGEMENT
By using WeSustain's integrated CO₂ management feature calculate and manage your corporate carbon footprint and get ready for climate protection. The efficient and fully digital way to your carbon footprint!
You are an energy or climate manager or sustainability manager and responsible for systematically and transparently collecting and managing the CO2 footprint of your company according to scope 1, 2 and 3?
If so, use the integrated and professional CO2 management feature of WeSustain's proven software for corporate sustainability management and reporting, the Enterprise Sustainability Management (ESM) software. Calculate, collect, manage and report reliably on your relevant climate data.
Drawing up your corporate carbon footprint has never been easier!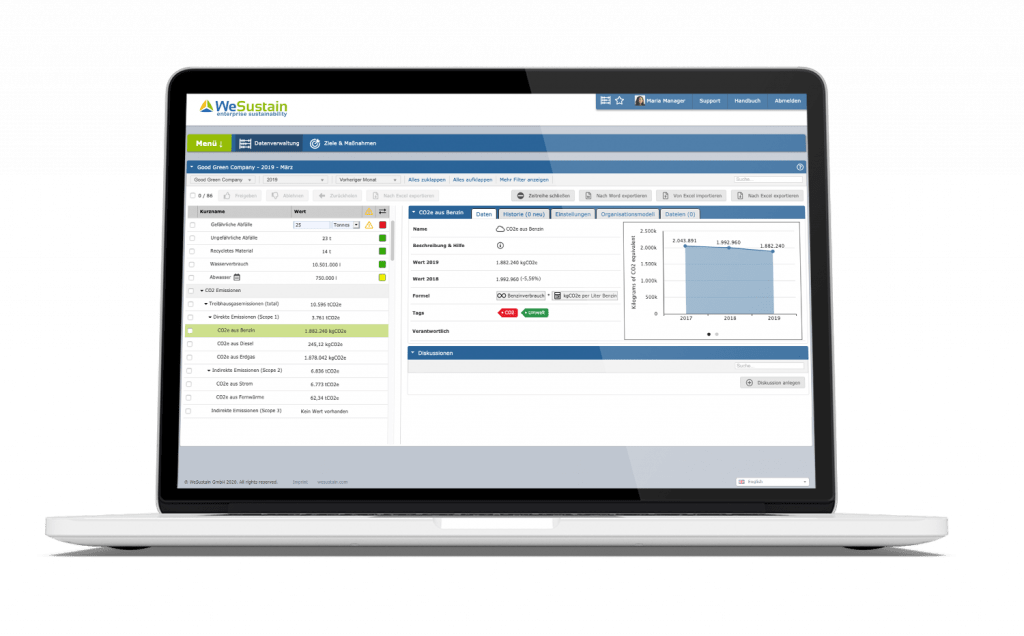 Collect and aggregate your emission data (scope 1,2,3) transparently for all sites in one central system
Calculate your carbon footprint using recognised and integrated databases, e.g. DEFRA (free of charge) or
EcoInvent
(fee-based)
Enter additional country- and site-specific factors for your calculations
Enhance the quality of your climate data with integrated plausibility checks or company-specific validation formulas
Evaluate your climate data in graphs or summary reports through an integrated analysis model
Manage your individual climate and reduction measures to reduce your corporate carbon footprint in a verifiable way
Make your company fit for climate protection with the integrated and professional CO2 management feature included in the ESM software. Get your company on track to achieve your climate goals with a reliable database.

Experience Wesustain in an online demo!